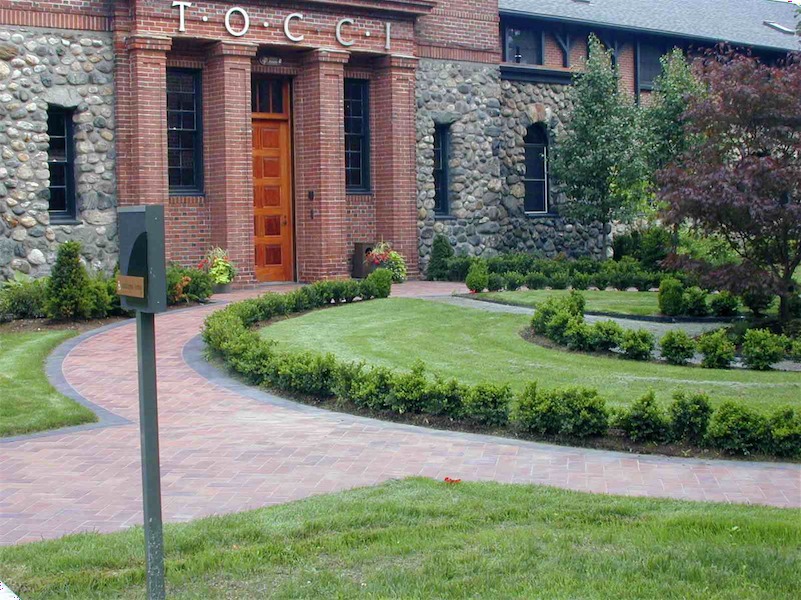 Commercial Landscape Design Experts Since 1969
As one of the most experienced commercial landscape design firms in the area, we create on-point landscape architectural plans that lead to faster approvals, a reduced time to market, and a higher return on your investment.
How does our commercial landscape design experience help you specifically?
Faster Approvals & Reduced Time to Market
Our proficiency in permit processes, town and board collaboration, environmental considerations, historic site design, plants, materials, site organization, conservation, and municipal regulations all allow us to deliver plans that are primed for fast approvals and seamless implementation. This helps reduce the time it takes to market your commercial space and, in return, helps to increase your ROI.
Get Maximum Curb Appeal for Your Dollar
With experience comes an understanding of which site and planting designs result in the most attractive landscaping for your dollar. And because our plans also take seasonal maintenance, including snow removal, into consideration, you will get the highest value for your money in both the short-term and the long-term.
Improved Clarity with CAD & Hand-Drawn Option
We are one of the few landscape architectural firms skilled in both CAD and hand-drawn graphic techniques. Typically, hand-drawn sketches are best used in the earlier stages of landscape planning, while computer-aided design is better suited for the later stages. We will always select the technique most appropriate for your needs – whether you are looking to present a project clearly for town approvals or developing a visual proposal for marketing purposes.
LEED Certified & Low Impact Development Expertise
We can employ the latest LEED practices, Low Impact Development strategies and principles such as Cluster or Open Space Planning, Neo-Traditional Neighborhood Design, Agricultural or Conservation Easements. Working together with the client and engineer, we can explore ways to improve financial returns while protecting natural and cultural resources for future generations.
Familiarity Working on Projects Like Yours
Having worked with hundreds of clients over the last 50 years, odds are we have successfully completed a commercial project just like yours – on time and within budget. See below for a list of commercial clients we have served in the past, plus some project images in our commercial portfolio. Or, feel free to contact us any time to learn more about the specifics of a particular project, including references.
Specialties
Site Planning
Garden Design
Therapy Gardens
Dementia Gardens
Spiritual Gardens
Historic Landscapes
Retail
Housing
Native Planting Design and Indigenous Landscapes
Rain Gardens and Stormwater Management
Land Planning
Some of Our Commercial Clients & Projects:
Housing
Archstone at Bear Hill, Waltham
Woodlands at Abington Station
Jefferson at Den Rock, Lawrence
Archstone, Tewksbury
Grandeville at The Commons, RI
Maple St. 40B, Middleton
Maplewood Village, Reading
Beach Plum Village, Nantucket
The Village at West Gloucester
Jefferson Dr., Lexington
Kellingrove Estates, Salem, NH
Office
Muro Pharmaceuticals
Control Delivery Systems
Dundee Park, Andover
Highwood Office Park, Tewksbury
Koch Membrane
Altron
Retail
Wilson Farm, Lexington
Oakdale Plaza, Tewksbury
Stop & Shop, Tewksbury
Mercedes Benz of Westwood
Flagship Motors, Saugus
Urban
Jurys Hotel, Boston
Trinity Place, Boston
Historic
Commander's Mansion, Watertown
Whaling Museum, Nantucket
Obed Baker House, Westwood
St. Catherine's of Genoa, Somerville
First Congregational Church, Winchester
First Church, Roxbury
Educational
Radcliffe College, Cambridge
Presbyterian Church Nursery School
Fayerweather Street School, Cambridge
Central Catholic High School, Lawrence
Mesivta High School, Brighton
Public
Parcel 12 Master Plan, Boston
Lawrence Public Library
Fireman's Memorial, Somerville
Isabella St. Pocket Park, Boston
Mystic View Public Housing
City Hall Annex, Somerville
Commercial Landscape Design Awards
Urban Land Institute 2020 Award for Affordable and Workforce Housing: Beach Plum Village
Prism Award, Best Affordable Community, 2011: Beach Plum Village
State Senate Official Citation for Outstanding Commitment to Improving the Lives of People with Disabilities: Commanding Officer's Quarters, Watertown, MA
Architectural Access Board Honor Award: Commanding Officer's Quarters, Watertown, MA
If you are looking for an experienced Commercial Landscape Design firm to help with your next project, please reach out to us any time.